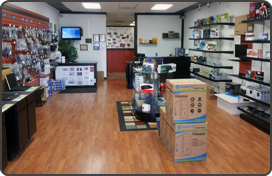 Home
Computer BYTES is the Concho Valley's connection for custom built computers where you will find the highest quality computer systems and components at the best possible prices. Let us be your one stop shop for service and support that you can count on! Locally owned and operated since 2002.
Computer Bytes Online Backup - Safe, Simple, Secure
Keep your important data safe and secure with our automatic and remotely managed software - Learn more.
Computer Bytes Start Page
Set your homepage to the new Computer Bytes start page: start.comp-bytes.com View local and national news, local weather, google search, and more.
Custom built desktops and notebooks - Contact us for a quote
Complete line of hardware & accessories
In-store, on-site & remote services
Service & repair on all brands of desktops & notebooks
Spyware, adware & virus removal
Point of sale (POS) equipment & software
Projector & screen rental - view the price list
Website and Email hosting
Wired & wireless network installation, security & maintenance
Secure online backup - learn more
And much more! Check out our service page for more details