About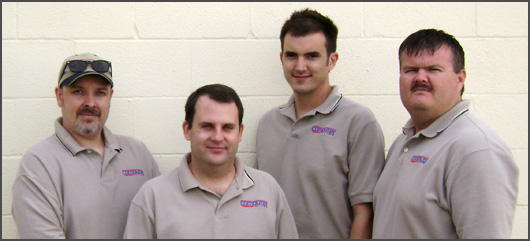 Computer Bytes owners Marcus, Dennis, Matt, and Ken
---
Serving bytes of personal service
New computer store operators focus on personal service
Article from the San Angelo Standard Times – Sunday, November 24, 2002
Jared Schroeder
Staff Writer
Four simple chairs surround a clean tabletop near the front of the store. The surface offers nothing for sale, nor will food or drinks be served on it.
No, this table's got a more important job at Computer BYTES, a new store located a few shops down from Hastings in the Southwest Plaza.
The table is a place for customers and employees to talk computers. It also represents the focus on customer service and community the new store's owners envision for their customers.
"We want to keep it personable," said Marty Estrada, the store's general manager. "Just talk to us – we can help. Come throw questions at us."
Estrada, a high-energy Alpine native, joined with five former employees of the now-closed Hard Drive Cafe to open the new store Oct. 1.
"The guys all got together and decided to open a store," Estrada said. "It's tough but we're learning a lot. We had to learn. We started with an idea and a dream and it became a reality."
The six, each with different computer service, sales and other specialties, spent most of September honing their carpentry and carpeting skills as they set up the new store.
Friends donated the new white ceiling tiles and some of the display cabinets. The six owners pooled their money and got a little help from some private investors to get the store open.
"We had a lot of good help from folks," said Estrada. "It started with a little of nothing and good support to get it started."
Computer BYTES wants to return the kindness community members paid them through providing a good service to San Angelo, Estrada said.
"It's a great town, not too big, not too small," he said. The store "helps keep the money in town; we don't want to send it elsewhere."
The friendliness includes befriending competitors. Estrada will send customers to Hastings, Office Max or Office Depot if they don't have what a customer needs.
"We're not trying to compete with everyone," he said. Hastings is "a good neighbor. They're part of our family.
"We're going to do the thing we specialize in. We don't want to fight with the big dogs."
The store specializes in servicing computers, but also sells and upgrades computers and sells computer components.
"You can buy a part on the Internet," Estrada said, "but if it breaks, who can you talk to?"
The general manager said the store keeps a limited inventory because of the fast-changing nature of technology, but can often have a part in hand within 24 hours.
"A lot of stuff we can have in one day," he said. "You don't want a million-dollar inventory."
Trends & ideas
Unlike a larger store, the Computer BYTES staff has time to focus and follow trends and changes in computers.
The store offers computer case modification kits, for example.
"You not only can customize your car, you can customize your computer," said John Welch, who helps develop business for the store. "That has really taken off. All walks of life are doing it."
Welch showed a maroon computer case with green lights along the bottom and multi-colored panels inside as an example of case modification.
Welch also talks to businesses and schools about what Computer BYTES services can do for them.
"We bring a lot of knowledge to the table," he said, "but we also have a lot of ideas."
Estrada talked about the possibility of having a computer case modification contest, giving prizes to the most unique cases.
The future
Estrada said the store is looking to expand the amount of work it does for small businesses and in homes and will soon offer a rent-to-own computer program.
The store would custom-build a computer for rent or purchase.
"We build them custom. Just like Burger King, you want it your way," Estrada said.
The general manager said the store's first six weeks have gone well.
"It's a lot better than we thought it was going to be," he said. "We were really surprised."
Estrada said the owners' relationships have helped them succeed.
"We've worked together for years. As a group we know how to work together well," he said. "We have fun here. We get some music, throw in a movie."
That and they sit and talk computers with their customers and neighbors.